Biomarker
Biomarker
Biomarker is a indicator that can detect changes in biological state or condition of the body using cells, blood vessels, proteins, or DNA, etc. The first use of the word biomarker is the National Institutes of Health (NIH), which defines biomarkers as "a defined characteristic that is used as an indicator of normal biological processes, pathogenic processes or responses to a therapeutic intervention" . JW is currently accelerating the development of the kit by securing unique technologies for sepsis diagnostic biomarkersand pancreatic cancer diagnostic biomarkers.
WRS, promising biomarker for sepsis
Tryptophanyl tRNA synthetase(WRS) is one of aminoacyl tRNA synthetases and has two forms – full length WRS (FL-WRS) and mini length WRS (mini-WRS, N-truncated form). In vitro study shows that FL-WRS could promptly trigger innate immunity against infection and be released immediately without de novo synthesis. In vivo study shows that WRS increases earlier than other sepsis biomarkers, such as procalcitonin and interleukin-6. Clinical trial shows that (1)WRS is superior to other biomarkers in terms of differentiating sepsis from inflammation, (2)the level of WRS could help to stratify the severity of the septic condition.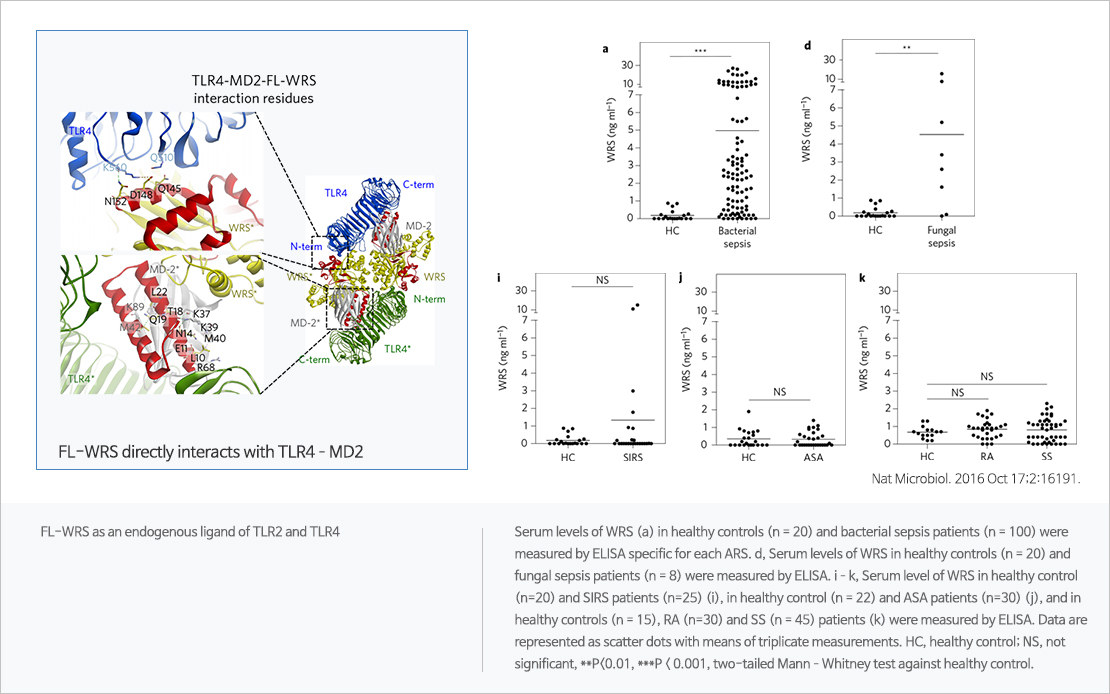 Intellectual property
Method of detecting a composition and diagnostic marker for diagnosing an infectious disease or complication using tryptophanyl tRNA synthase (2016)
Registered in K (10-1771697)
Patent application is filed (US/EP/JP/CN) and under examination.
Antibodies that specifically bind to WRS proteins and uses thereof (2019)
Patent application is filed in KR (10-2019-0087230, 10-2019-0087233)
1) Curr Opin HIV AIDS. 2010 Nov; 5(6): 463–466.
Combination of CFB and CA19-9, novel biomarker for pancreatic cancer
Complement factor B(CFB) is known to play an important role in the alternative pathway of complement system. JW is underdevelopment of multi-biomarker diagnostic kit using CFB and CA19-9 which pancreatic cancer can be detected in early stage through a simple blood test.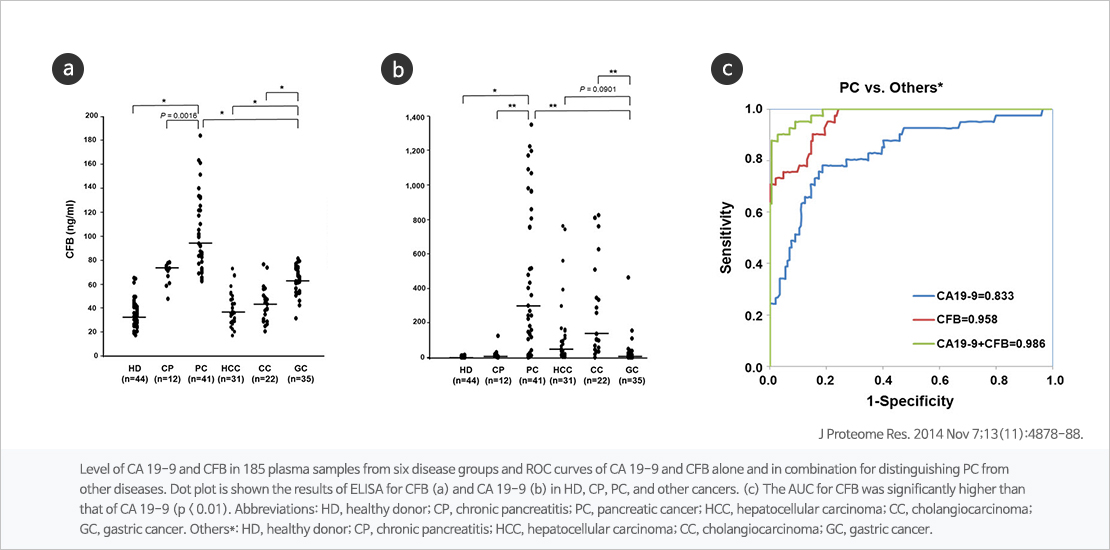 Diagnostic Values of CA 19-9 and CFB According to Cut-off Levels in PC versus Other Disease
CFB (ng/mL)
CA 19-9 (U/mL)
CFB1 + CA 19-9
PC vs Others
78.42
37
-
Y-index
71
50.4
87.4
Sensitivity
(%; 95% CI)
73.1
(72.4-73.7)
80.4
(79.8-81.0)
90.1
(89.7-90.6)
Specificity
(%; 95% CI)
97.9
(97.8-98.1)
70.0
(69.6-70.4)
97.2
(97.0-97.3)
1Sensitivity and specificity of the combination of CFB and CA 19-9 from the maximum Youden's index.
2Predicted optimal cut-off value from the maximum Youden's index.
Abbreviations: CA19-9: carbohydrate antigen 19-9; CFB: complement factor b; PC: pancreatic cancer; Others: HD (healthy donor), CP (chronic pancreatitis), HCC (hepatocellular carcinoma), CC (cholangiocarcinoma), GC (gastric cancer)
Publication
Identification of Human Complement Factor B as a Novel Biomarker Candidate for Pancreatic Ductal Adenocarcinoma J Proteome Res. 2014 Nov 7;13(11):4878-88
Intellectual property
Pancreatic cancer diagnostic kit including antibody that specifically binds to complement factor B protein (Registration No. 10-1594287)
Patent registered in KR/EP/JP/CN/US